By Delia Gutiérrez. Posted December 02, 2015
This meeting, organized by the World Meteorological Organization (WMO), the World Health Organization (WHO), the United Nations Programme for the Environment (UNEP), the European Agency for the exploitation of meteorological satellites (EUMETSAT) and AEMET, was held in Amman (Jordan), from 2 to 5 November, with the participation of representatives from the fields of meteorology, the environment and the health of 16 countries, together with international experts.
AFRIMET's HEALTHMET pilot project has joined the initiative with the participation of representatives of the meteorological services of the two countries that have already launched their national Climate and Health Working Groups (CHWG), Mauritania and Burkina Faso.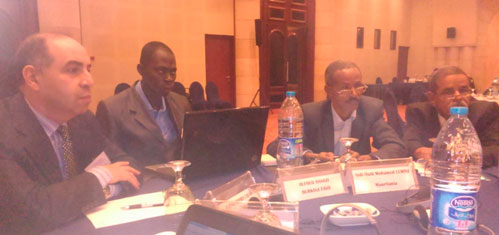 The meeting has focused on assessing the state of knowledge on the subject, and on promoting measures to tackle the problem of pollution by mineral dust from the sanitary point of view.
The Healthmet project has been presented at the meeting. This pilot project, which aims to strengthen links and cooperation between the meteorological and health services in the countries involved, launched in 2011 the national CHWGs in Mauritania and Burkina Faso. After a period of inactivity, in 2015 the project is has approached the ClimHealth Africa initiative and the joint office WHO/WMO of the MMSC. Participation in this workshop is intended to be the takeoff of the re-launch of the CHWGs and the implementation of activities aimed firstly to evaluate the data and available resources and needs, on the way to the establishment of early warning systems for health services.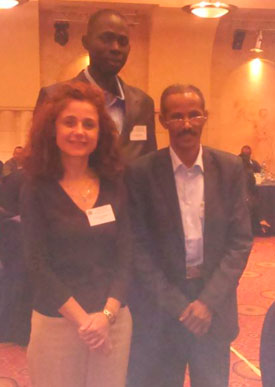 Spain leads the world prediction of dust and sand storms through the first operating center in the world recognized by the WMO. The Barcelona Dust Forecast Center (BDFC), created in February of 2014, produces and distributes daily predictions of atmospheric mineral dust for North Africa, Middle East and Europe. The Center is managed by AEMET and the Barcelona Supercomputing Center (BSC). These predictions are essential to establishing national early warning systems allowing the mitigation of the adverse effects of mineral dust.
During the workshop, the city of Amman lived an exceptionally intense episode of airborne dust. Data and forecast were discussed at the meeting.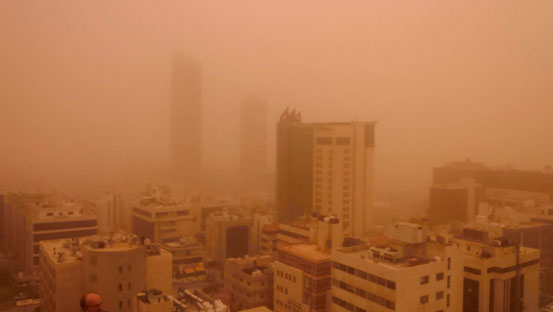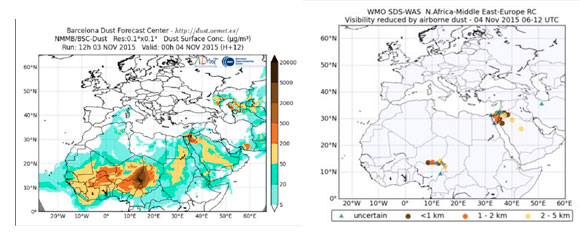 You can find the presentations of Mauritania, Burkina Faso and HEALTHMET at AFRIMET documents' archive.